If you are visiting any new destination for the first time and are not exploring all the activities of that destination, then this is just equal to making your whole trip dull. As if you are on vacation, you always wish to get to a refreshing destination for your mood, calming and fun-filled with best desert safari packages. And we have a perfect example for you in the name of Dubai. Visiting Dubai is incomplete if you are not booking with desert Safari advance packages! Right through this guide, we will be explaining to you a guide everything about Desert Safari packages and tours!
As you search around desert safari packages, you will find numerous travel and tour companies offering you great packages and deals. But as you are planning a luxury trip to Dubai, make sure that you pick a tour company or agency which is reliable and professional to work with. They should never give you false commitments, should have no hidden charges and should be based on a team of expert professionals.
Why should you choose evening desert safari packages?
For all adventure lovers, visiting Dubai night tours should be the best option for you. This will include the package of evening desert safari as well. With the evening packages, you can often grab some excellent services of visiting the campsite, which is not available in the morning package plan. The evening tour generally starts at 4 in the afternoon.
Things to do in Evening Desert Safari Tour
Some tourists are fond of starting with the dune bashing on the beveled dunes. These fantastic dunes of the Arabian Desert in Dubai are around 400 feet high. And hence you should not miss out on trying this great adrenaline-pumped activity. Another unique desert sport is ATV quad biking. It might be a bit intricate for beginners where. They might find some issues in balancing their bodies on the bike. So make sure you run the ride under professional guidelines to keep it accessible for yourself.
When we talk about the evenings, then the evenings of the tour are breathtaking and gorgeous. You can take yourself on the camel ride and depict the absolute beauty of Arabian culture. On the other hand, the beauty of the sunset binds the tourists ultimately. It's a great experience of a lifetime to view the dance performance of belly art and enjoy your favorite dinner cuisine. It would be so much magic to spend a night in the Bedouin camp with friends talking, singing, dancing, and enjoying.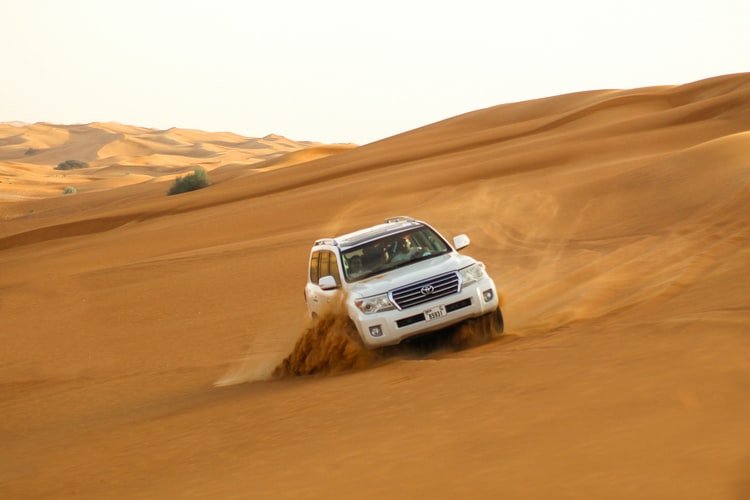 What are the Advantages of the Evening Desert Safari Tour?
You will be experiencing an extraordinary and authentic glimpse of Emirati culture and great tradition. Don't forget to book cultural tours!

Do spend a night in the desert by exploring its most delicate beauty.

You can also experience the beauty of the best cuisine in Bedouin-style restaurants.

Watch the mesmerizing belly dance, Tanura dance, and fire dance performances.
Significant things to consider while booking Desert Safari Tours
Now let's talk about a few of the significant factors which you should consider when booking the Desert Safari Dubai packages:
Transfers
Most of the tour operators will be arranging the pick-up service from the place where you are staying. They will also drop you back. If you have other activity plans, inform the operator in advance. Safaris are always happening in the deserts, away from the bustle of city life. For visiting the desert in summertime, do not miss carrying water with you or some light snacks. Wear a scarf to keep the heat at bay.
Locations
Desert camps are generally arranged in the areas of the Hatta Mountains, Dubai Desert Conservation Reserve, and Lahbab Desert. But you will have tremendous and different experiences in all three unique locations. The Dubai Desert Conservation Reserve is all loaded with wildlife experience, and the Lahbab Desert will expose you to the great deserts' authentic culture.
Activities
Towards the onset of the great Safari tour or desert safari package, you will find yourself getting into the thrill of a dune bashing ritual. Following this, you should look for different activities at the desert adventure, such as dune buggy Dubai ride, quad biking, sandboarding, and camel riding.
Breakfasts / Dinners
Based on the Dubai Desert Safari packages, the tours are included with the meals. When we talk about morning safaris, they offer breakfasts, and the sumptuous buffets are fully displayed in the package of evening tours. In the desert camps, you can get comprehensive continental or Arabian food and Mediterranean food options. You can inform your operator in advance if you have any preferences related to the food.