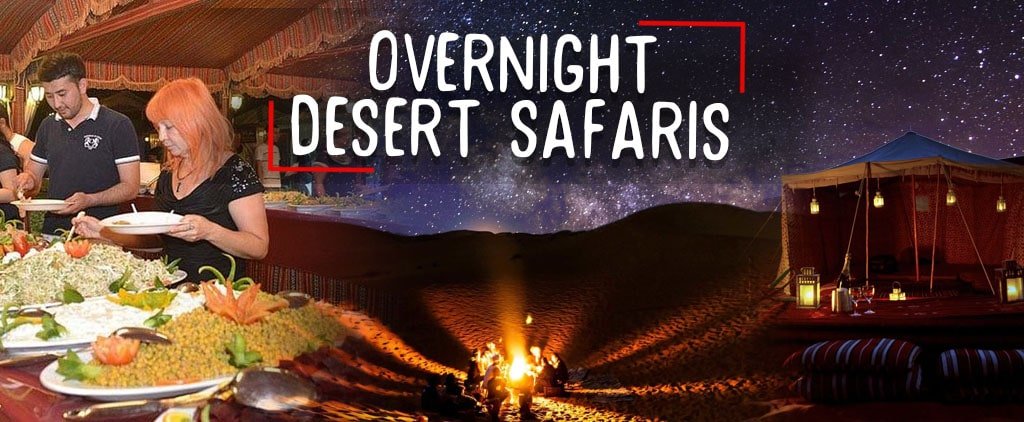 OverNight Desert Safari Offers
When you add leisure, thrill, and adventure together – the total will end up quite close to what you get from an Overnight Desert Safari Dubai tour. It has all the perfect elements that transform your trip from a memorable experience to once in a lifetime experience. Overnight Safari is a fantastic experience that offers the thrilling Dune Bashing, the excitement of Quad Biking in Dubai desert, the joy of BBQ dinner, the entertainment of a Belly Dance show and other craft programs, and the profound pleasure of spending a night in the desert beneath a peaceful night sky, decorated with millions of twinkling stars, that display a beautiful exhibition of the glorious nature present all around us.
Overnight Safari – Tour Overview
When a tour is as exciting and adventurous as an Overnight stay in the Desert of Dubai, you must choose the best available tour planners to avoid any glitches during your desert safari trip. And this is where we come into the picture. As one of the best-rated tour companies in the Emirates, we spark a perfect glam of traditional Arabian culture and a spectacular display of thrill and excitement to notch up the level of your trip.
The tour begins as one of our dedicated experts picks you up directly from your hotel in a well-refreshed Land Cruiser. We then head straight to the desert, where all the excitement awaits. Once you reach the desert, we arrange the ecstatic dune drive for you in a 4*4 SUV. As you storm your way into the desert to bash on the vast Sand Dunes along with traditional Arabian Cultural Music playing in the background, instantly forget all the stress of your daily life.
Next, we have Quad Biking. You can choose from a wide range of Quad Bikes available at the site. Each vehicle is designed to keep a smooth and safe experience, so you can entirely focus on beating your friends in a desert race. Need we mention a Quad Bike is the most thrilling mode to explore the vast and majestic Arabian Desert? Camel Riding, Sandboarding, and other entertaining activities are also on the itinerary. You can also choose to sync in traditional Arabian attire to click once in a lifetime picture. Arabian National Birds are also available on the campsite if you wish to showcase something for your Instagram or Snapchat family.
Once the sun sets down, we head for a good BBQ multi-cuisine veg and non-veg dinner prepared by some of the top cooks in the world. Both Vegetarian and Non-vegetarian meals are available. Bars and Sheesha Parlors are known to amplify your entertainment as you enjoy a variety of programs, including Belly Dance, Tanura, and mesmerizing Fire show performances exhibiting breathtaking moves.
Lastly, we prepare for your overnight stay in the desert. After a tiring day, you can relish the splendid beauty of gazing at a star-studded night sky from your sleeping bag—a perfect way to relax.
Some other merits of an Overnight Safari
Mesmerizing Landscape 
During your Overnight Desert Tour, you can witness the beautiful and glorious view of the sunset. The scenery is picturesque and spellbinding enough to awestruck any visitor.
Dining and BBQ
We provide one of the most satisfactory dining and BBQ experiences ever. Every meal is prepared with extreme care and caution by some of the best cooks available in the country. Both Vegetarian and Non-vegetarian cuisines have a wide variety of options to choose from. We also have an open bar and Sheesha Parlor at the campsite to enhance your dining experience.
So what are you waiting for? Book your Overnight Safari Tour with us to have a once-in-a-lifetime experience.
overnight desert safari Dubai packages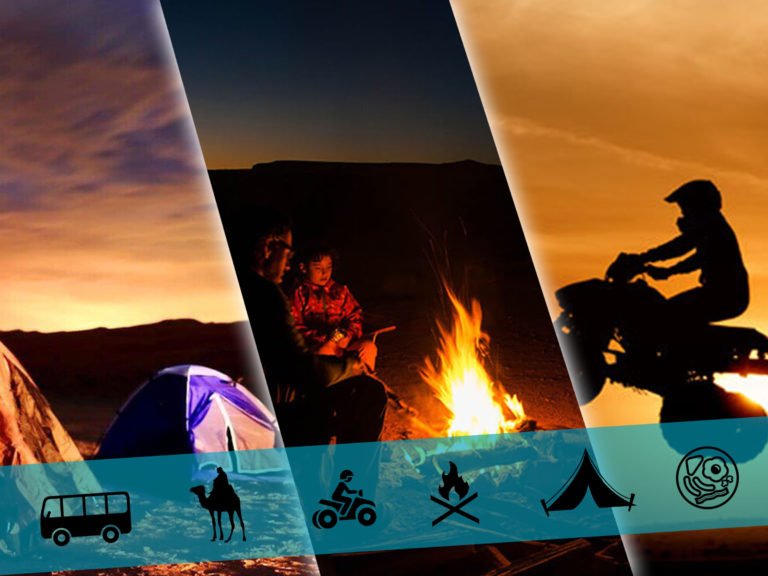 Self Drive Package

200 AED
You will have to reach at our location by your own car | Dune Bashing | All includes | Sleeping Camp | Breakfast | Shared Transport.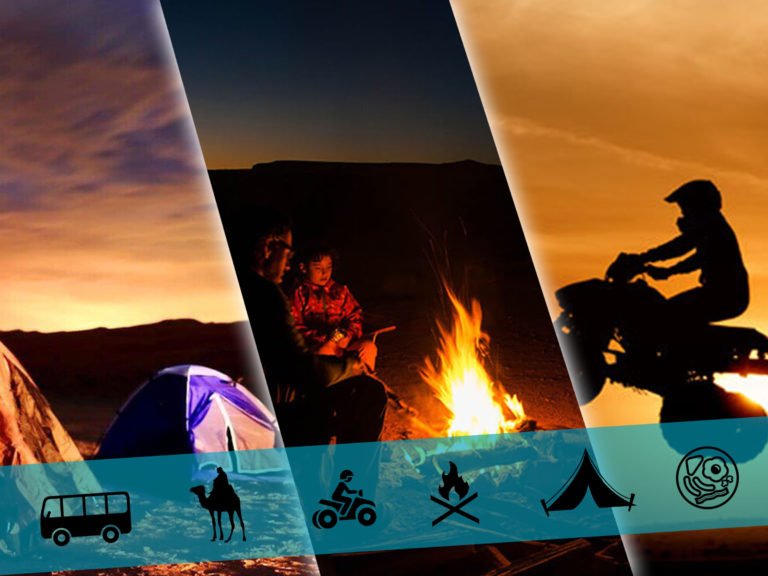 Pick/Drop By 4*4 Vehicle from your Home or Hotel | Dune Bashing |All includes |Sleeping Camp |Breakfast |Shared Transport.
Pick/Drop By 4*4 Vehicle from your Home or Hotel |Dune Bashing |Quad Biking |Long Camel Ride |All includes |Sleeping Camp |Breakfast |Shared Transport.
Exclusions (Extra Charges)
FOOD COURSE MENU IN DESERT
Frequently asked questions
Overnight Safari includes the traditional Evening Desert Safari and an opportunity to spend a night beneath the stars in the desert.
In Overnight trip of Desert Safari, you can experience the mesmerizing Sunset, Dining & BBQ, Dune Bashing, Camel Ride, Quad Bike, Live Belly Dance, and camping in the Dubai Desert with Bonfire.
Overnight Safari is generally an 18 hours tour. Our driver will pick you up at 15:00 Hrs, and Drop Off will be the following day around 08:00 Hrs at your hotel.
We recommend you carry a Jacket during the winter season. We will provide tents, Pillows, Blankets, & Water for your overnight Stay.
Yes, SandBoarding can be experienced with the Overnight Safari Tour. You can enjoy sandboarding with the sunset or the sunrise as you will stay overnight in the desert.
With the basic package, your Pick-up & Drop is done by shared transportation. In the Advance package, your Pick-up and Drop is done by an exclusive 4*4 SUV.