Dhow Cruise Marina and Creek Dubai
DHOW CRUISE DINNER DUBAI CREEK
When you're in Dubai, don't forget to take the fun to the seas of United Arab Emirates. Dhow Cruise Dubai is the perfect, ultimate setup for corporate events with thrill, adventure, and gorgeous prestige. 
Dhow Cruise Dinner is one of the most tranquil experiences that offers a load of spellbinding natural beauty and open air cruising, enough to gratify all visitors. 
Marketed by its remarkable combination of incredible hospitality and premium services, served with courtesy and kindness, make Dhow Cruise a must-have experience in one's lifetime.
Dhow Cruise Creek Tour Overview
The Journey of Dhow Cruise Creek will undoubtedly be one of the most memorable experiences from your trip to Dubai. The tour offers a vast collection of splendid views and picturesque scenery. 
The tranquil nature of the water provides a highly blissful environment, which is further prospered by the live entertainment shows on the cruise. 
The show was initially a trading vehicle before it was turned into a sail for public entertainment and is now referred to as Dhow Cruise in Dubai. So, we say, stop the resistance and prepare yourself to board this vessel for a romantic dinner in a unique environment.
Some of the utmost extraordinary things to observe during Dhow Cruise Trip in Dubai Creek
The Scenery – 

Your trip to Dhow Cruise Creek will enable you to witness the marvelous charm of natural beauty depicted by the artificial architect. The day cruise offers a beautiful view of the glorious city of Dubai. 

Meanwhile, the night cruise is more charming, intimate, and in public opinion, more romantic. Under the shade of the Moon, seawater becomes more magical and appealing until you feel like dreaming.

Perfect Romantic Setup – 

If you think candlelit dinners in a private setting are some of the best ways to make your partner feel extremely special, try Cruise Dining in a tyrant sea beneath the Moon and the stars. Perfect lightning around and just the right kind of music in the background to set up your evening nicely.

A different experience –

Dhow Cruise can be one of the unique experiences of your life. Setup in a fantastic atmosphere with tranquil vibes of love, profoundness, and joy is enough to mesmerize you as a visitor.

Cruise Dining –

Dhow Cruise Creek serves delightful and delicious multi-cuisine food, both vegetarian and non-vegetarian, prepared by some of the best cooks available in the emirates. Though the food is not the only thing we sell on our tour, it is tasty, as reviewed by every visitor who has ever come on board.
So what are you waiting for?
Book your Dhow Cruise Creek tour with us and enjoy great discounts.
DHOW CRUISE MARINA
150 AED
2 Hours Cruising in Dubai Marina |Live entertainment shows |Buffet Dinner & Unlimited water soft drinks tea & coffee. Enjoy your cruising with mates.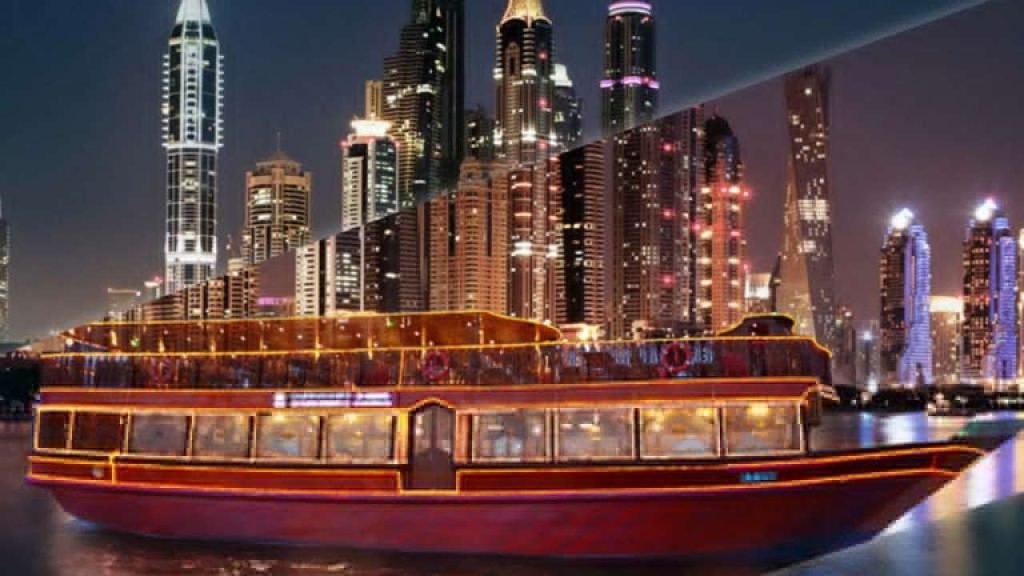 2 Hours Cruising in Dubai Creek  |Live entertainment  |Enjoy your evening with family and friends |Buffet Dinner & Uulimited water soft drinks , tea & cofee.
Includes & Excludes - Dhow Cruise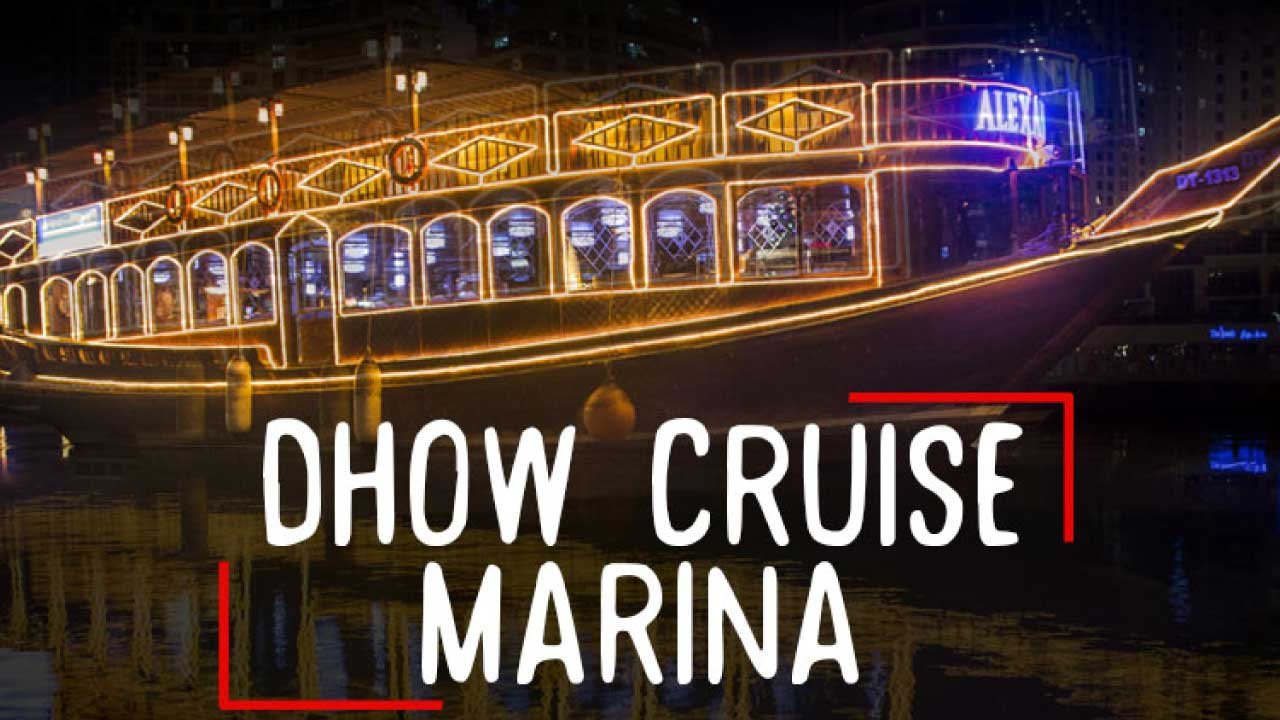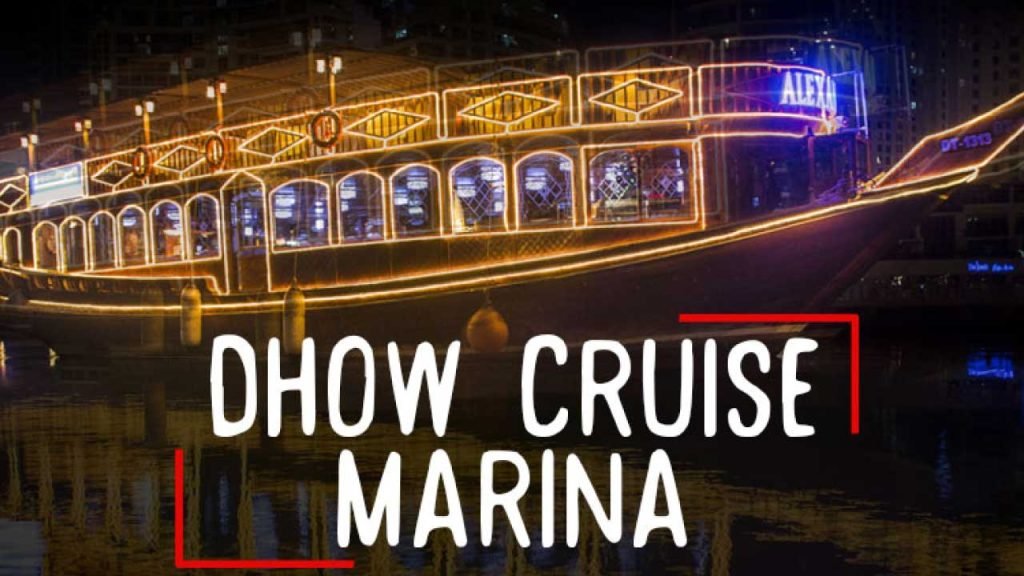 Dhow Cruise Marina is one of the most unorthodox, contemporary, and novel experiences that one can enjoy in Dubai. When you cruise through Dubai Marina, you want the evocative skyscrapers, luxurious malls, and elegance of Dhow Cruise to make for a pleasant experience. A perfect and sophisticated setting serving delicious cuisine and highly sophisticated meals is an excellent additional benefit.
Dhow Cruise Marina – Tour Overview
Dubai Marina is one of the highly fascinating tourist spots in Dubai, which attracts large crowds. Observing such large gatherings, Dubai Travel & Tourism authority decided to extend a profound structure of a joyful bundle in the form of a Cruise in Dubai. Dubai Marina is home to one of the most unsurpassed artificial marinas in the world. Therefore, cruising at Dubai Marina is an unforgettable experience. Dhow Cruise Marina tour is a splendid glam of modern architecture and a unique style of a luxurious experience.
Some more features of the Dhow Cruise Marina Tour
A Picture-perfect Scenery – 
Dhow Cruise Marina offers a flawless display of picture-perfect scenery. It's almost difficult to grasp the view of everything in, as the view on both sides of the canal is exceptionally breathtaking.
A splendid blend of Entertainment –
Dhow Cruise Marina is not just about splendid views. There is a spellbinding gathering of traditional Entertainment. Tanura Dance performances on Arabian Music are one of the major takeaways of the night.
Cruise Dinner –
Dining at Dhow Cruise Marina is fantastic. We offer a blend of multi-cuisine dishes in various meals prepared by some of the best cooks available in the emirates. The environment makes meals more delicious. The gorgeous view of the sunset and the romantic setting later under the moonlight is stunning add-ons of the Dhow Cruise Marina Tour.
So what are you waiting for? Book your Dhow Cruise Tour with us and enjoy great discounts to save some cash.
Frequently asked questions
Dubai Dhow Cruise is among the famous tourist attractions where the traditional dhows are turned into incredible restaurants. Here, you can enjoy a memorable time, sightseeing, and dinner in the Arabian sea and creek lake.
Dubai Dhow Cruise trip consists of 2 hours, including dinner, sightseeing, and other entertainment.
You can wear anything comfortable or relaxing as the Dhow cruise trip is in the evening.
The Dhow Cruise trip is highly relaxing and entertaining. You can enjoy an incredible dinner time, splendid views, live shows, and more entertainment.
Both cruises offer a fantastic sightseeing tour. However, the Dhow Cruise Marina allows you to encounter new areas of Dubai. For the sightseeing of traditional Dubai, Creek is a good choice.
Contact our team of experts via call, chat, or email to book the best Dubai Dhow Cruise tour deals and packages.