Hatta is a town in the United Arab Emirates surrounded by the majestic Hajar ranges.
It is a heritage village situated on the UAE's outskirts and is a paradise for many nature admirers and tourists from all across the globe. These places give you a memorable experience and help you enjoy the best memories of the past. You will surely enjoy Kayaking boat ride, Hill Park and visit hatta heritage village, and sporty things like thrilling mountain safari in hatta!
This package includes all this to give you and your family a memorable lifetime experience.
The Hatta city tour is the best half day and full day trip from Dubai which you can plan to witness the wonders of the gulf and have a getaway into natural beauty of hatta.
WHY VISIT HATTA DUBAI?
No matter what walk of life you come from, visiting Hatta will give you so many experiences that you will not get enough of this place. It has stone houses, ancient monuments, historical epics, desert safaris, nature treks, crockery activities, Hatta kayak, valley hiking, and many more diverse fun activities.
This place is away from the chaos of our fast-paced lifestyle and will give you a much-needed break.
Also, the cultural shift in your Hatta Oman tour will give you a larger-than-life experience and uplift your spiritual experience. 
HATTA MOUNTAIN TOUR DEALS
 Try Kayaking in Hatta Water Dam and Rock Pools
Kayaking in Hatta's glitzy dam water currents is a must for all you adventure and nature lovers out there!
This dam is clean, peaceful, and situated in the lap of luscious nature and greenery. This visit is a perfect amalgamation of peace and excitement.
Enjoy the thrill of water stunts and get a soothing experience in the tranquil scenery and waters of the damn!
 Visit The Hatta Hill Park
Add a serene touch to your Hatta Dubai tour by meditating and enjoying the visually appealing aura of Hill Park in the heart of Hatta.
Situated on the apex of a beautiful mountain, Hatta hill park is a quiet and breezy place where hundreds of people visit to spend quality time with their loved ones. This place is so well planned that even though many tourists surround you, you can enjoy your space and time.
 Excite Your Senses in the Hatta Mountain Safari
Craving for some goosebumps and a thrilling experience? The Hatta Mountain Safari has it all! This rough, edgy ride through the sandy deserts will keep your fists clenched and leave you breathless.
Get a full tour of the beautiful land of Hatta and get well with speed!
 Get Lost in The Hatta Heritage Village
The Hatta Oman tour revolves around architectural beauty and ancient historical remains. The stories behind every formation and monument in the Hatta heritage village will teleport you into the mysteries of the 18th century cultural events.
Every year many celebrative cultural festivals gather admirers and tourists from all over the globe. Make sure you don't miss out on this classic fun!
 Go Hiking In The Hatta Wadis
Wadis are picturesque valleys and ravines in the heart of nature where people usually love hiking and camping. The Hatta Wadis are one such creation of nature that will give your Hatta Oman tour a fun twist through rocky surfaces, scenic peak points, and refreshing gorge pool formations where taking a dip is a must!
Hatta Sightseeing Tour
110 AED
Hotel pick up drop off | Pick up by 4*4 Car | All includes write below | Sightseeing Tour | 6 Hours Tour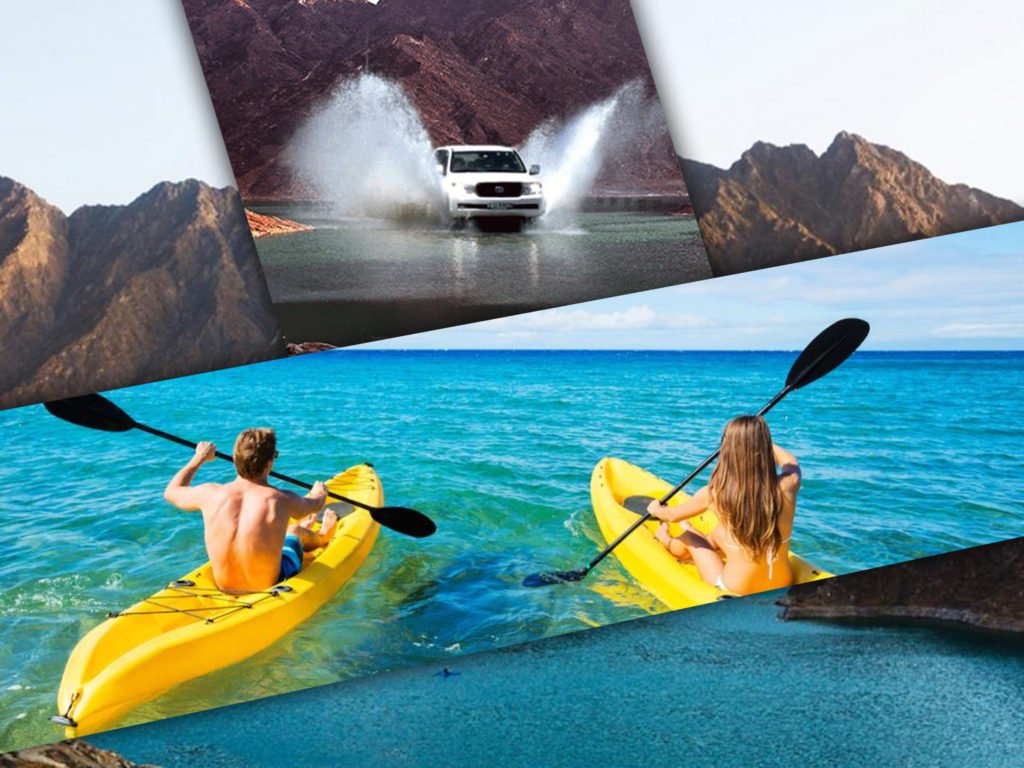 Hatta Advance Package
185 AED
Hotel pick up drop off | Pick up by 4*4 Car | All includes write below | Kayaking | 6 Hours Tour
Hatta Premium Package
299 AED
Hotel pick up drop off | Pick up by 4*4 Car | All includes write below | Sightseeing Tour | Kayaking in Hatta Dam |Lunch in Hatta fort Hotel |
– Kindly book Hatta Tour at least 48 hours before your tour date. You can use the booking form or directly connect with us via WhatsApp.
– All prices mentioned are for per person only.
Tour Cancellation
– Informed 24 hours before your tour day: 100% Cancellation
– Informed in less than 24 hours: NO REFUND
Tour Rescheduling
– If you wish to reschedule or modify your trip, you must complete it 24 hours before the tour date. In that case, no charges will be deducted.
– The rescheduled trip must be planned in the same year.
For Kids
Age below three years: No charges
Age above three years: Same charge as of an adult
Hatta tour is suitable for all age groups. But older people, pregnant women, and heart and back pain patients are advised to avoid adventure sports.
All tour prices are subject to change. No further notice will be given in this case.
SEATING POLICY
We hold exclusive rights to allocate seats as per availability.

We manage all shared transfers on SIC / Sharing with other Tourists (unless demanded and confirmed for premium services).
INSURANCE COVERAGE
All our vehicles for the tour are fully insured. This facility will be helpful in the rare event of an accident.
DRES'S CODE GUIDELINES
Carry clothes according to the season. Light and warm clothes are advised in summers and winters, respectively.
Frequently asked questions
The best time to visit Hatta mountains is in winter, summer, spring or autumn. 
Yes Hatta is located in Hajar Mountains range near Oman Border closely connected to Dubai. 
Hatta can be accessed within 1:30 hour from Dubai. 
Hatta mountains tour consists of 5 to 6 hours.
You should only have UAE visa along with a passport. There is no special visa for Hatta tour. 
Contact our team of experts via call, chat, or email to book the best Hatta tour deals and packages or you can fill our Book Now farm.