You Must Need to Know About What to Wear During Desert Safari Dubai
So here you go…….
Excited about your first Desert Safari ??
It is going to be super fun and an ever-unforgettable experience…..
But wait!!!! Little confused about what to wear on your first Desert Safari Trip????
No worries…..
Finding out what to wear during desert safari Dubai tour is best.
Some features of your attire and clothes during a Desert Safari must include breathability, neutral shades, adjustable for both temperature extremes including cold and extremely hot, and must mitigate the effects of dust which will be on to you from all around.
Some of the clothing stuff you are on your favourite Desert Safari must have:
A Poncho/Hoodie
These are must-carry things during a Desert Safari. They help you during night festivities or early morning when temperatures are pretty low.
Full-Sleeved Shits of Tops & Trousers
Try to get catchy and trendy stuff in a cotton fabric. Wear shorts is not a good idea as they do not go with air-conditioned jeeps and cars. If you get out of the jeep and engage in sand activities such as sandboarding, you may be covered in sand and unable to enjoy the rest of the trip. In addition, riding a camel in shorts is inconvenient. Hence, we advise wearing some trendy trousers perfect for a Desert Safari. If you must wear shorts, try the convertible zip-off trousers.
Sunglasses and Hat
Yes, they are always needed.
The sun in the UAE is intense at all times of the year, so invest in a good pair of sunglasses. If you don't want sunglasses, a cap or a light shawl will suffice. Just hold on tight; dune bashing is a roller coaster ride.
Sandals or Sneakers??????? Both are good to go…
It doesn't matter if you wear sneakers, light boots, or flip-flops because you'll be in the jeep for most of the dune-bashing excursion. Small intervals and stops will allow you to stretch your legs, snap pictures, and enjoy the desert beauty. We recommend shoes or light boots for walking on the dunes and keeping your feet warm at night at the camp, but sandals or flip-flops will suffice.
You would be on to so many activities while enjoying your Safari excursion in the eye-catching Dubai Desert. So, be sure that your clothes are perfect for the specific activity and will not bother your enjoyment.
Here is a list of clothes according to the activities………
Desert Safari with Dune Bashing in Cheap Desert Safari Price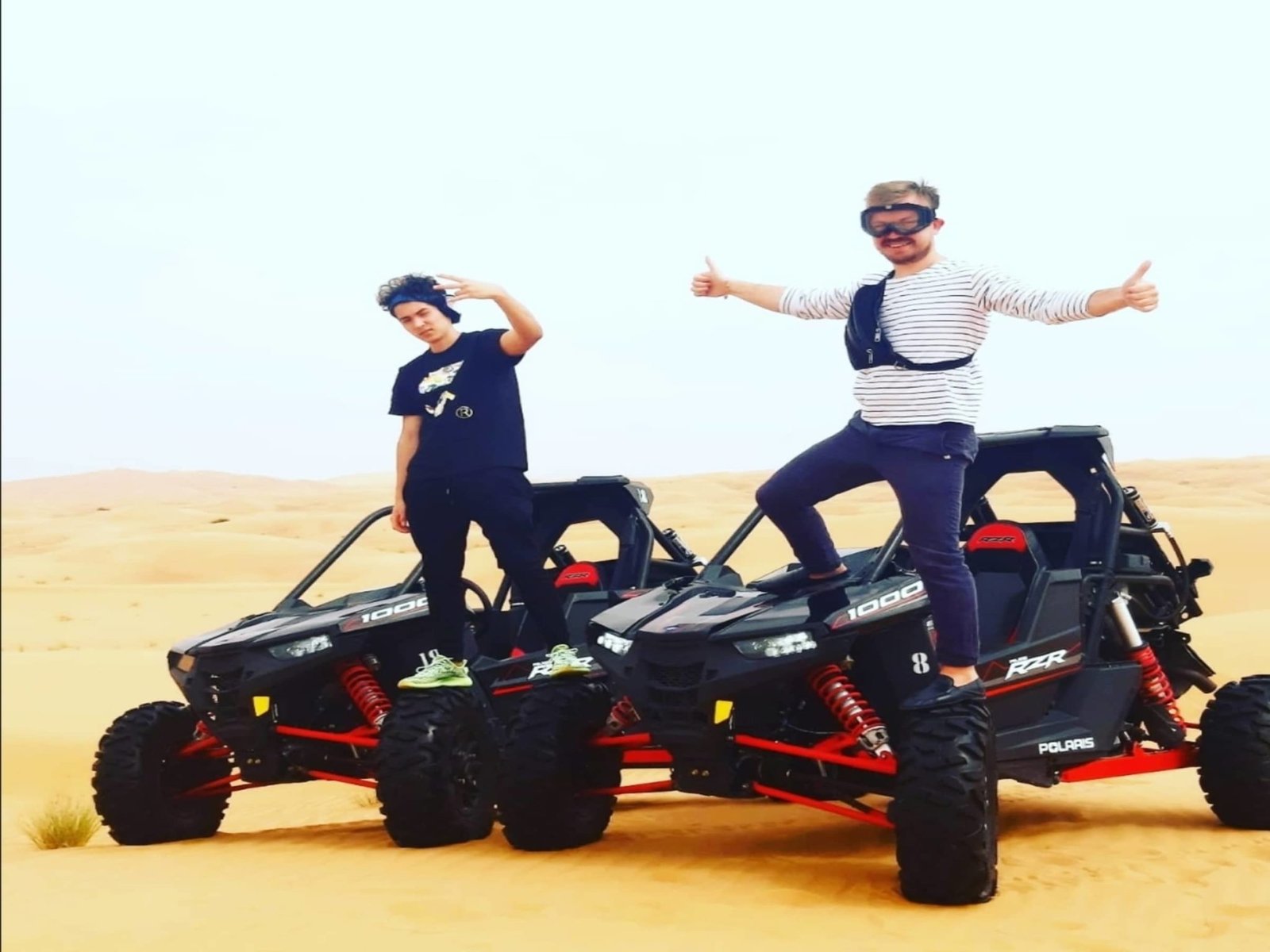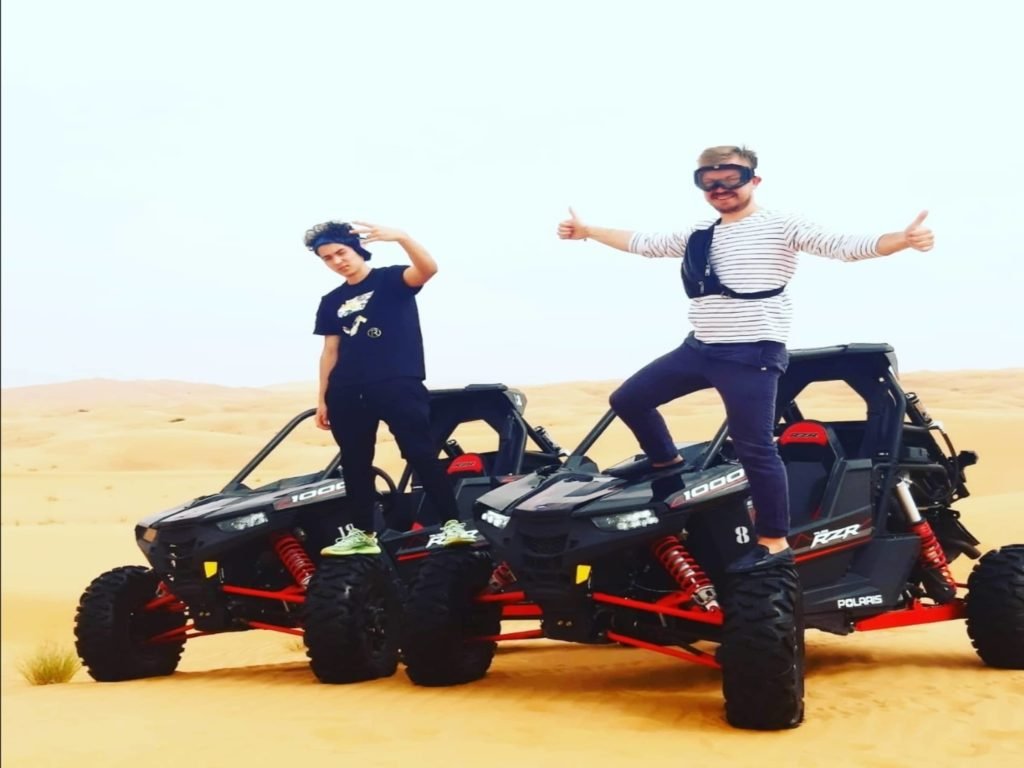 To impress, the 4×4 that takes you up from the city will most likely take the difficult dune entry to the camp! Ladies, you may want to ensure you're adequately supported because you'll be flung around in the car. Thus your clothes must be appropriate enough to help you during this adventurous ride. (This activity is not recommended for children under five, pregnant women, or those with back, heart, or other health issues).
The Crazy Camel Ride in Dubai Desert
Excited about a Cheap Desert Safari Price?????????? The first adventure is a camel ride….
It's nearly inevitable for your first desert adventure, so plan how you'll ride ahead of time. Camel riding isn't the chicest of sports, so choose shorts and pants rather than skirts, and keep any loose objects close at hand!
Dubai Quad Biking /Fat Tire Bikes
These are usually available supplementary desert activities like Dubai Buggy Tours and Quad Biking. Some camps may have tight rules prohibiting wearing anything other than closed-toe footwear during Quad Biking Dubai. A short skirt is impractical while you're straddling anything. Athletic attire is ideal if you need something to hold back your long hair.
Desert Safari with BBQ Dinner and Camp Fun at Cheap Desert Safari Price
Your evening camps will likely conclude with a dinner served on carpets on the floor. Consider how you'll sit comfortably on the ground; the evening could end with a little light dancing. If you've already participated in a desert sport, bring new clothing and a little stuff to refresh (antiperspirant) before eating.
Anything to pack extra accessorizing your clothes during Desert Safari?????
There are some must-haves……….
Bring sunscreen, sunglasses, and a hat if any part of your journey is during the day.
Before eating and after touching camels, use a sanitiser.
If you're travelling with youngsters, bring tissues and wet wipes.
Ant antiperspirant wipes, or a hanky or sweat towel are recommended in the summer.
Before you go, you might find that dusting everyone's legs with talc/beach powder helps to reduce